Ceiling Medallions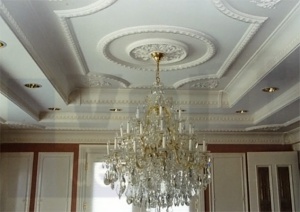 Ceiling medallions are used to create a sense of ambience and atmosphere. In adding that special charm, many are simply placed on a ceiling or wall as decoration.
Most often they adorn chandeliers in entry ways, dining rooms, banquet halls, ceiling fan decorations ... But not only - you can instalI a ceiling medalion which suits your interior in any room in your home or business estate. 
Our gypsum plaster medallions are hand-crafted. We offer a huge variety of models and styles.
In order to reply to your needs we offer the ceiling/ wall medallions finished in any colour or effect you would like.
You can contact us for more information and assistace. 
Products