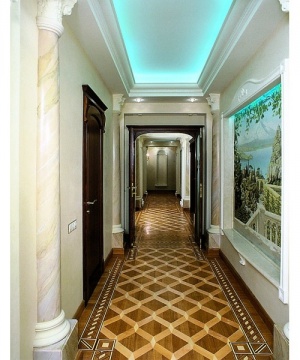 Vel Design makes round and half gypsum columns in any sizes. Our columns have decorative function and are non-load bearing columns.
The gypsum plaster round columns we produce are :
- Ready-to-instal items (decorative capitals, shafts and bases) - you can use these elements to decorate and cover up your columns or to make decors using columns; we offer variety of styles and sizes which can suit your interior; in this case you can built your desired decorative column using our standard column capitals, column shafts, column bases and plinths or customized ones only for you.
and
- Ready columns - you don't have to instal the column and it can be moved in different rooms; as a rule we offer the ready columns finished in different styles and effects - See Decorative Columns and Faux Marble Columns (gypsum columns with special finishing immitating marble).
Half gypsum columns are used for wall decors and these are a type similar to pilaster columns. All columns listed in our catalogue can be made half columns.
back to content
Price: 0 EUR
Num:
Price: 0 EUR
Num:
Price: 0 EUR
Num:
Price: 0 EUR
Num:
Price: 0 EUR
Num:
Price: 330 EUR
Num: RC 004