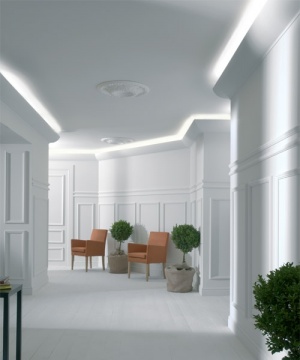 Our lighting troughs cornices are a special range cornices used for indirect lighting. If you want to create real modern design, lighting troughs cornices are the best alternative.
Lighting systems for indirect lighting (mostly LED strips) can be mounted either on the wall or on the lighting trough itself. Lighting troughs cornices soften the light in the room and make the interior stylish and elegant.
Lighting troughs cornices and indirect lighting have a lot of advantages. Here are the most important of them:
- We make lighting troughs cornices of glass fibre reinforced gypsum (depending on the product we also use hemp/ palm fibres, oakum of sisal and burlap for reinforcement) so the cornices are durable, natural and eco friendly
- Using indirect lighting cornices will eliminate glare on television and computer screens that's why they are a perfect choice even for the office. Working at the computer is tiring for the eyes and it is important to have adequate lighting to not further strain your eyes.
We also recommend lighting troughs cornices for bedrooms and all places in your home where relaxing and comfortable atmosphere is extremely important.
Each of the models in our Lighting Troughs Cornices Catalogue can be customized.
back to content
Price: 32 EUR
Num: LT 001
Price: 19 EUR
Num: LT 002
Price: 23 EUR
Num: LT 003
Price: 23 EUR
Num: LT 004